DAXOPHONES
Often, people ask me if they can buy a daxophone from me. The answer is: yes! There are not many places where you can find a daxophone! My instruments are informed by my studies with the daxophone's inventor, Hans Reichel. I am very enthusiastic about helping the world learn about this wonderful instrument. One day, I hope to work with the keepers of daxophone lore to create a real Hans Reichel Foundation, and when that foundation exists, I intend to donate a percentage of my daxophone sales to it. Until that day comes, my customers support my ongoing development and livelihood. I think the world should have more daxophones in it. If you agree, read on!
to purchase a daxophone, read below to learn what i have available. once you figure out what works for you, please contact me:
daniel.fiction AT gmail DOT com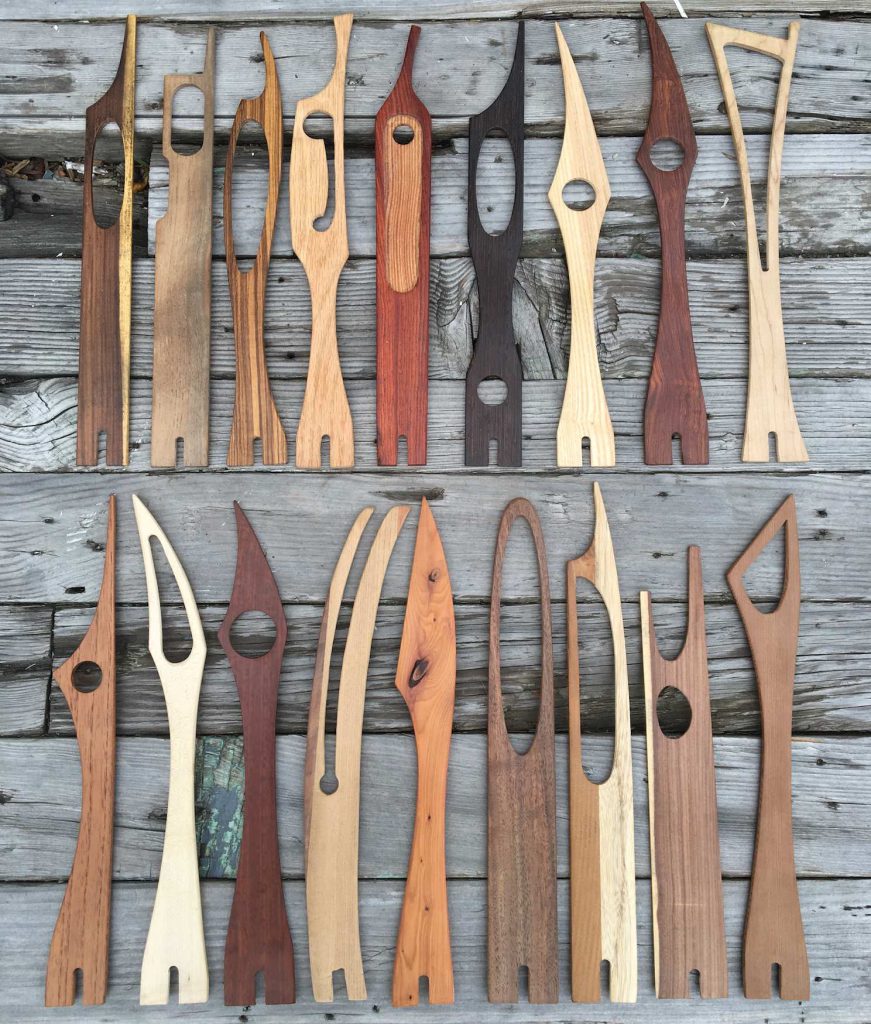 daxophone tongues
The tongue is the soul of the daxophone. If you already have a daxophone soundboard, this option will be perfect for you. I use handtools, the CNC machine, and creative glue-ups to create wild daxophone tongues with a great variety of sound. People often ask: how do I know which tongues to buy? I send many tongues to the customer, and the customer selects the tongues they want. For example, if you purchase 2 tongues. I will send a batch of 5-10 tongues to you—you can try them out and find the daxophones that speak to you.
I don't prefer to work with specific requests for wood or shapes because of the inherent variability of the daxophone. The plain fact is: even identical wood species sound different from tree to tree, and the surfaced edges and thickness of the tongue have as much to do with overall sound as does the overall shape. At present I am have been designing tongues with the domestic lumbers of North America: claro walnut and black walnut, maple, sycamore, catalpa, ash, mulberry, oak, and yew. I also build a lot of instruments made from precious rosewoods and some more common tropical woods, such as padauk and wenge. You may inquire about particular woods if you are curious, and depending on what's on the bench, I may be able to accommodate you.
$80 per tongue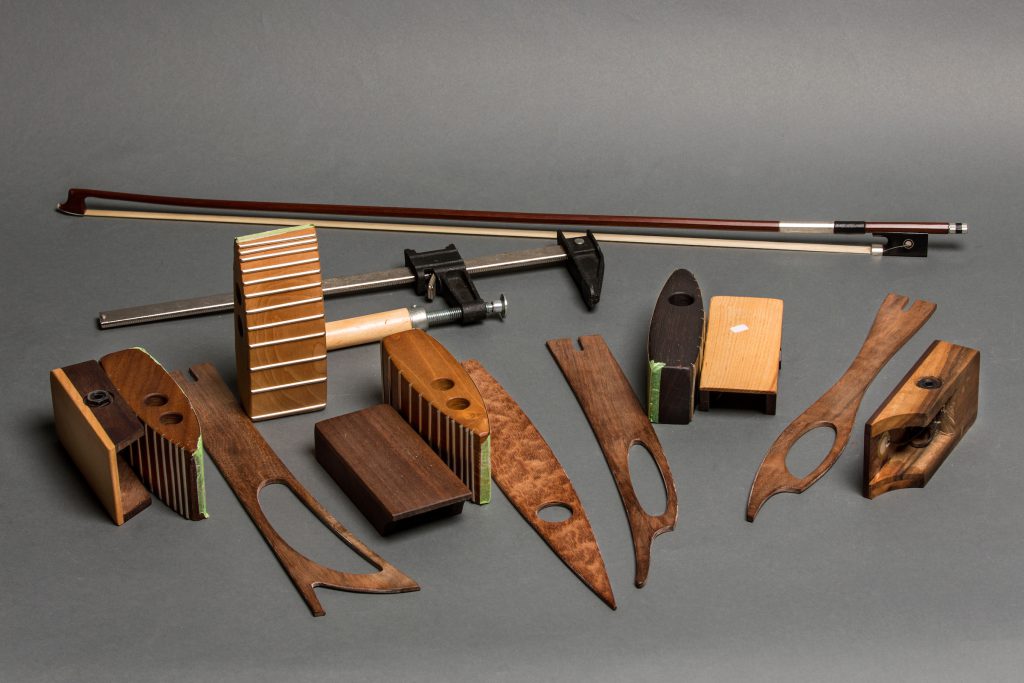 Student Model Daxophone
The "Student Model" daxophone is great for beginners, who really want to hear the instrument sing, but don't necessarily have the woodworking skills to build their own instrument. I devised this model from early documentation about the daxophone from Hans Reichel's writing and pictures. It is a small wooden box with piezo microphones, which can be clamped to any table, making a simple but effective daxophone soundboard.
The student model includes:
1) Soundbox (with piezo elements installed)
2) Dax.
3) Three tongues.
$500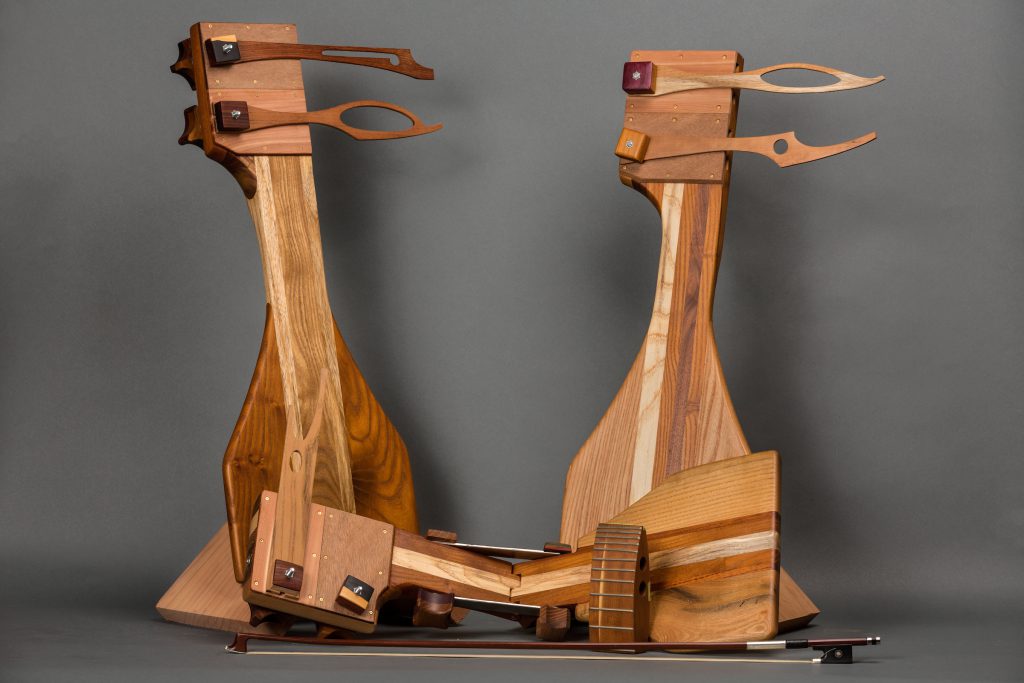 Daxophone Starships
If you want to get serious about the daxophone, this is the way to go. This hand-carved version of the daxophone offers superior ergonomics and practicality. It looks beautiful, too. To play this instrument, you stabilize it by sitting upon the soundboard. I can make this model a doubleneck, which allows you to play multiple tongues simultaneously. This model also features the elaborately carved wooden clamp, which holds the tongue steady in position, and also makes changing tongues quick. 
The Starship model includes:
1) Daxophone Soundboard (doubleneck option available, as well as hinged version available. note: hinge version includes a $300 upcharge.)
2) Dax.
3) Seven tongues. I send a batch, and you can find the seven you like, and send the rest back.
$2400
In addition to these offerings, I also teach daxophone building workshops, which might be a good intermediary solution for handy people that want to further develop their woodworking skills, but need a little guidance.
THANK YOU!