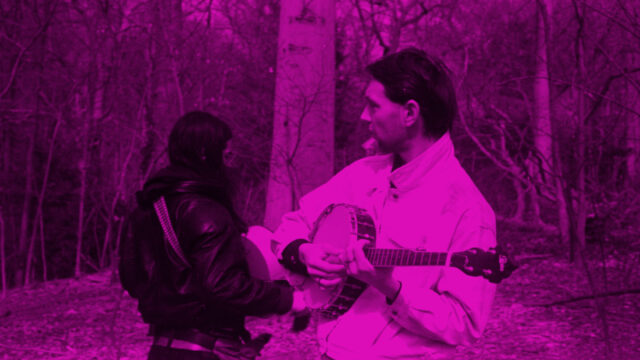 Fishkin and Strong
AN ANNUAL BAND WITH JIM STRONG

FROM THE SUBURBS
I have known Jim Strong  since 2004 or longer—we grew up playing in rival punk rock bands in the suburbs of Philly. We collaborated on many, many projects since the early days: from sharing bills on tour with our ancient bands dandelion fiction and wrinkle, to our power trio with Jordan Burgis, and for almost a decade between 2008 and 2016, just getting high off each other's fumes. Jim is a fellow instrument builder among many other things.

It's interesting how different people come in and out of your life, some friendships burn brightly for a year and then disappear entirely, others recur periodically, cresting regularly with long periods of silence in between.
Jim and I began to realize that after 2015, we had begun to collaborate at least once a year, just by chance. So, in 2017 we decided to began to think about this deliberately. We began a tradition to affirm the longevity of our friendship—to perform publicly at least once every year until we perish.

2020
Walk Like a Demon
Walk Like a Demon is the debut album of Fishkin and Strong, recorded in the tender summer days of the Coronavirus Quarantine. On CD ONLY! Out on Cor Ardens for distribution.

2019
Our annual of 2019 was at the Red Room, In Baltimore.
2018
At the Random Tea Room, Philadelphia This live improvisation featured a reading of "Hans Reichel Dream #6″, from 2006!
2017
This was a fun one.  Jim surprised me by organizing a drum troupe to play this gig…press play to see what happened.

2016
Some godforsaken basement show in North Philadelphia, ask Schuyler for the video, not me
2015
H.O.T. Series, Mascher Space!